Rabbi Shmuel Dovid Feinberg

שמואל דוד ב"ר צבי
Rav, Khal Adas Neshveis, Lower East Side
Date of Death: Tue. December 22, 1914 - Teves 14 5674

Anyone with biographical information is asked to please send it in.
See CONTACT page for details. Thank you.
Cemetery:
Mount Zion Cemetery - Queens
Directions to Kever: Mount Zion Cemetery in Queens maintains computerized records and will provide a detailed location map upon request. Location: Society: NESHVEIS, Path: 26R, Map: 139
Name Listed on Cemetery Database: FEINBERG, SAMUEL
Biographical Notes:
Bio Information:
While the town of Nesvizh is currently located in Belarus at one point it was part of Poland.  Once considered a great center of Torah Jewry, among its many rabbonim was Rav Yitzchok Elchanon Spector (d. 1896).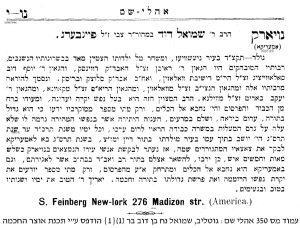 Source: Gottlieb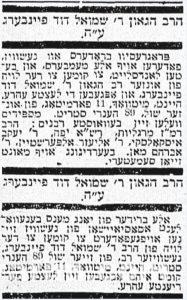 Source: Morgen Journal, December 23, 1914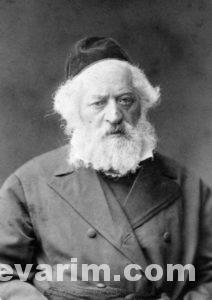 Photo Caption: Rav Yitzchok Elchanon Spector, Kovno Rav, Credit: N/N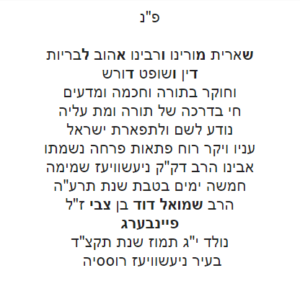 Photo Credit: Moreshes Chachmei America's Archives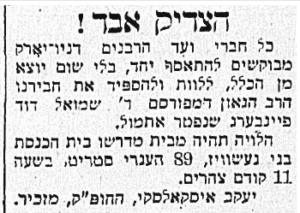 Photo Caption: Message placed in the Morgan Journal by Rav Yaakov Eskolsky of the Degel HaRabonim mourning the passing of Rav Feinberg, Credit: Moreshes Chachmei America's Archives
« Previous: Rabbi Yaakov Moshe Zimmerman
Next: Rabbi Yaakov Avigdor »