Rav, Kiryas New Square
d. 15 Tishrei, 2005 (5763) Sukkos
Anyone with information is asked to please send it in. See CONTACT page for details.
Directions to kever:
Village of New Square Cemetery
Grant Avenue
Spring Valley, NY 10977
Location: Near the Rebbe's ohel.
Click photo to enlarge , a new window will open, click that one as well.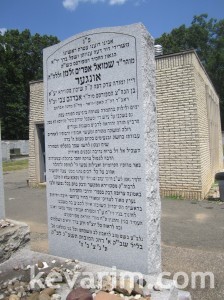 Photo Credit: Reb Elya