Rabbi Tzvi Chaim Papkin

צבי חיים ב"ר נפתלי הלוי
Rav, Ahavath Achim Shul, New Bedford, Massachusetts
Date of Death: Wed. October 12, 1960 - Tishrei 21 5721
Hoshana Raba
Anyone with biographical information is asked to please send it in.
See CONTACT page for details. Thank you.
Cemetery:
Plainville Cemetery - New Bedford
Directions to Kever: Plainville Cemetery in New Bedford, Massachusetts is located alongside the New Bedford Regional Airport, The cemetery is made up of four sections, Ahavath Achim Cemetery, Chesed Shel Emet Cemetery, Tifereth Israel Cemetery, and Workmens Circle Cemetery. Of the four, only Ahavath Achim and Chesed Shel Emet are Orthodox. As they are both no longer in operation the cemetery may be managed by Jewish Cemetery Association of Massachusetts (JCAM). Location: Needed
Biographical Notes: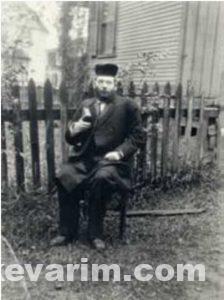 Photo Caption: Rav Tzvi Chaim Papkin, Credit: [University of Massachusetts Dartmouth]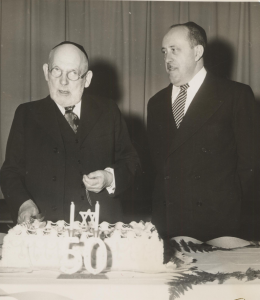 Photo Caption: Rabbi Tzvi Chaim Papkin and Rabbi Bernard Ziskind celebrating the 50th anniversary of Ahavath Achim Congregation, Credit: Needed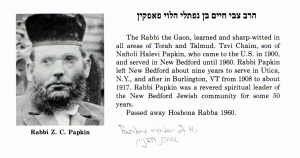 Source: Chachmei Yisroel of New England 
Bio Information:
Rav Pakin, who rabbinated at Ahavath Achim from 1900 until his passing in 1960 was a founding member of the Agudat Arabanim.
« Previous: Rabbi Aaron Tzvi Sliveblatt
Next: Rabbi Chaim Tzvi Kruger »