Rabbi Tzvi Epstein

צבי ב"ר אריה
Rav, Cong Beth Jacob, "Wall Street Synagogue", Boston, Massachusetts
Date of Death: Sat. March 20, 1920 - 1 Nissan 5680
Rosh Codesh
Anyone with biographical information is asked to please send it in.
See CONTACT page for details. Thank you.
Cemetery:
Grove Street / Jeshurun Street Cemetery - West Roxbury
Directions to Kever: The Grove Street / Jeshurun Street Cemetery (not the official name) in the West Roxbury section of Boston is made up of many smaller cemeteries and societies, each with their own gates and markers. The cemetery is managed by JCAM, Jewish Cemetery Association of Massachusetts. Location: Cemetery: Adath Jeshurun Cemetery Associates, Section: 60, Grave: 4
Name Listed on Cemetery Database: Rabbi Harris Epstein
Biographical Notes: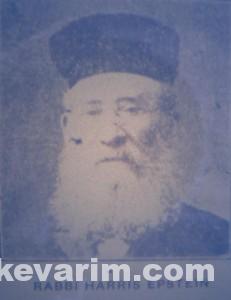 Photo Caption: Rabbi Tzvi Epstein, Credit: The Jewish Advocate

Bio Information: 
After a number of mergers the shul eventually became known as Beth Hamedrash Hagadol Beth Jacob.
« Previous: Rabbi Abba Michel Kopelowitz
Next: Rabbi Reuvain Yitzchok Levine »