Rabbi Tzvi Epstein

צבי ב"ר אריה
Rav, Cong Beth Jacob, "Wall Street Synagogue", Boston, Massachusetts
Date of Death: Sat. March 20, 1920 - 1 Nissan 5680
Rosh Codesh
Anyone with biographical information is asked to please send it in.
See CONTACT page for details. Thank you.
Cemetery:
Adath Jeshurun Cemetery Associates - Boston
Directions to Kever: The Adath Jeshurun Cemetery Associates is located along Grove Street in the West Roxbury section of Boston, Massachusetts. The cemetery is managed by JCAM, Jewish Cemetery Association of Massachusetts. Location: Section: 60, Grave: 4
Name Listed on Cemetery Database: Rabbi Harris Epstein
Biographical Notes: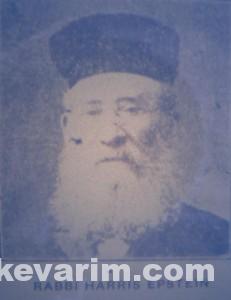 Photo Caption: Rabbi Tzvi Epstein, Credit: The Jewish Advocate

Bio Information: 
After a number of mergers the shul eventually became known as Beth Hamedrash Hagadol Beth Jacob.
« Previous: Rabbi Abba Michel Kopelowitz
Next: Rabbi Reuvain Yitzchok Levine »