Rav, Chicago, IL
d. 30 Shevat, 1911 (5671) Rosh Chodesh
Anyone with information is asked to please send it in. See CONTACT page for details.
Directions to kever:
Waldheim Cemetery
1400 Des Plaines Avenue
Forest Park, IL 60130
708-366-4541
Location: Needed
Click photo to enlarge , a new window will open, click that one as well.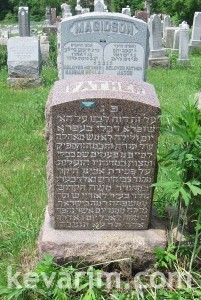 Photo Credit: Jim Craig