Rabbi Yaakov Goldfarb

יעקב ב"ר שמואל
Rav, Beth Israel Congregation, Washington, Pennsylvania
Date of Death: Wed. March 30, 1949 - Adar 29 5709

Anyone with biographical information is asked to please send it in.
See CONTACT page for details. Thank you.
Cemetery:
Beth Israel Cemetery - Washington, PA
Directions to Kever: Beth Israel Cemetery in Washington, PA is located right after the Washington Mall parking lot. The cemetery is locked and the key must be signed out from the shul office which is located at 265 North Avenue, Washington, PA 15301. Office hours are Mondays, Wednesdays and Fridays -- 9:30 AM – 1:30 PM. At all other times please contact Rabbi David C. Novitsky who who lives next door to the Shul.
Biographical Notes: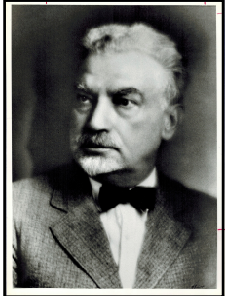 Photo Caption: Rabbi Yaakov Goldfarb, Credit: BETH ISRAEL CHRONICLE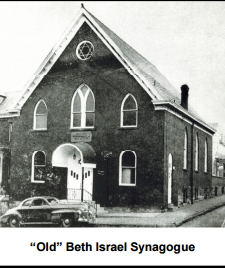 Photo Caption: Original Beth Israel Congregation building, Credit: BETH ISRAEL CHRONICLE
Bio Information:
Rabbi Yaakov Goldfarb, a renaissance man who had many interests and talents, left his native Lithuania for America in 1890 when he was not yet 20. He was fluent in Lithuanian, Russian, German, Hebrew and Yiddish. He was a mohel, able to perform ritual circumcisions, a shochet, or ritual butcher; a chazzan or cantor; and he studied Talmud and Torah. He stopped in New York, then Pittsburgh, the largest Jewish community in Western Pennsylvania. It was from there that Rav Moshe Shimon Sivitz, spiritual leader of the Orthodox Jews in Pittsburgh, chose Connellsville for Rabbi Goldfarb's first congregation. Only a month later, Rav Sivitz recalled Rav Goldfarb for another, more permanent assignment, one which lasted a half century.
Jacob Samolsky, head of the Washington Jewish community, sent for his niece, Zelda Simon, a native of Vilna transplanted to London, to come to Washington to become the bride of Rav Goldfarb. Rav Sivitz performed the wedding ceremony. After a decade in London, Zelda Goldfarb was expert in English and became her husband's teacher. With adding English to his list of languages, Rav Goldfarb also added the duty of secretary of the Beth Israel Board of Directors and took minutes for the board for the next 50 years.
Source: BETH ISRAEL CHRONICLE