Rabbi Yaakov Goodman

(יעקב ב"ר ישראל (יואל
Chief Rabbi, Burlington, Vermont
Date of Death: Fri. January 12, 1912 - Teves 22 5672

Anyone with biographical information is asked to please send it in.
See CONTACT page for details. Thank you.
Cemetery:
Burlington Hebrew Holy Society Cemetery - South Burlington
Directions to Kever: The cemetery is owned and maintained by Ohavi Zedek Synagogue. Ohavi Zedek is located at 188 North Prospect Street in Burlington, Vermont.
Name Listed on Cemetery Database: Rabbi Jacob Goodman
Biographical Notes: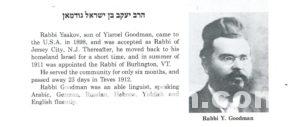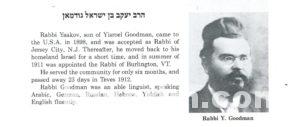 Photo Credit: Chachmei Yisroel of New England, Rabbi Mayer Abromowitz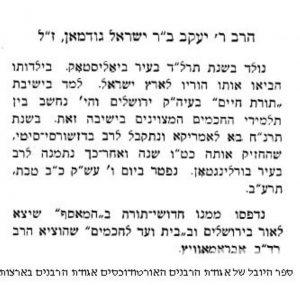 Source: Safer HaYovel, Agudath Harabonim