Rabbi Yaakov Spiro

יעקב ב"ר אליהו
Rav, New York City
Date of Death: Sat. March 21, 1914 - Adar 24 5674

Anyone with biographical information is asked to please send it in.
See CONTACT page for details. Thank you.
Cemetery:
Washington Cemetery - Brooklyn
Directions to Kever: The Washington Cemetery in Brooklyn, New York maintains detailed burial records and will provide assistance upon request. Location: Needed
Name Listed on Cemetery Database: Name listed on marker: Rev Jacob Spiro
Biographical Notes: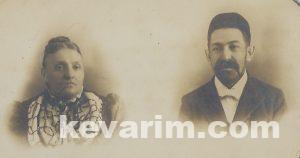 Photo Caption: Rabbi Yaakov and Mrs. Augusta Spiro, Credit:  Gary Spiro of Massachusetts

Bio Information:
Rabbi Spiro was born in Wloclawek, Poland and spent a short time in England before emigrating to America.
« Previous: Rabbi Baruch Dovid Weitzman
Next: Rabbi Dovid Bender »