Rabbi Yechezkel Yehoshua Ovsovitz

יחזקאל יהושע ב"ר יעקב
Rav, Trenton, New Jersey
Date of Death: Wed. October 15, 1913 - Tishrei 14 5674

Anyone with biographical information is asked to please send it in.
See CONTACT page for details. Thank you.
Cemetery:
Har Nebo Cemetery - Philadelphia
Directions to Kever: Har Nebo Cemetery in Philadelphia, Pennsylvania maintains detailed burial records and will provide assistance upon request. Location: Needed
Biographical Notes: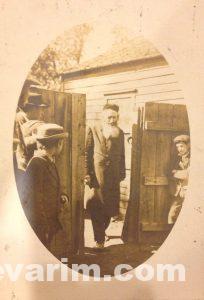 Photo Caption: Rabbi Yechezkel Yehoshua Ovsovitz, Credit: Daniel Adler
Note: Apparently Rav Ovsovitz did not like his picture taken.  The story is that the kids made noise to
draw him outside…you can see he is kind of smirking in the picture.
The Rav also served in Fall River, Massachusetts and Denver, Colorado and passed away en-rout to the land of Israel