Rabbi Yehoshua Moshe Mereminsky

יהושע משה ב"ר
Chief Rabbi, Mount Vernon, Westchester County, New York
Date of Death: Wed. August 16, 1961 - Elul 2 5721

Anyone with biographical information is asked to please send it in.
See CONTACT page for details. Thank you.
Cemetery:
Mount Judah Cemetery - Ridgewood (Queens)
Directions to Kever: Mount Judah Cemetery in Ridgewood, Queens maintains computerized records and will provided a detailed location map upon request. Location: Society: TAL TOR TIPH JER, Section: 1, Block: V, Gate: 1, corner of Lebanon Road and Sinai Avenue
Name Listed on Cemetery Database: MEREMINSKY, JOSHUA
Biographical Notes: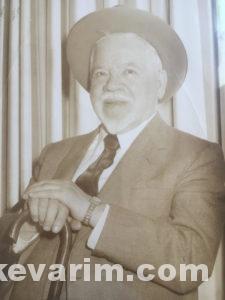 Photo Caption: Rav Yehshua Moshe Mereminsky, Credit: Josh Mereminsky 
Bio Information:
Rav Mereminsky's wife, was the granddaughter of the Chofetz Chaim. In his later years Rav Mereminsky retired and moved to Los Angeles.
« Previous: Rabbi Moshe Rosen
Next: Rabbi Baruch Marshak »