Rabbi Yehuda Dovid Cirkel

יהודה דוד ב"ר שמאי הכהן
Rav, Brooklyn, New York
Date of Death: Fri. August 20, 1937 - Elul 12 5697

Anyone with biographical information is asked to please send it in.
See CONTACT page for details. Thank you.
Cemetery:
Mount Judah Cemetery - Ridgewood (Queens)
Directions to Kever: Mount Judah Cemetery in Ridgewood, Queens maintains computerized records and will provide a detailed location map upon request. Location: Section: 2, Block: 6, Gate: 11 Path: R20, Society: TAL SOC OF BKLYN/MACH #16, see map picture below, the last row on the section on the right side.
Name Listed on Cemetery Database: CERKEL, JUDAH DAVID
Biographical Notes: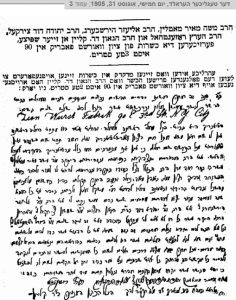 Source: The Daily Herold, August 31, 1905



Source: Eisenshtadt
« Previous: Rabbi Avroham Yeshaya Schaeffer
Next: Rabbi Moshe Mordechai Luria »