Rabbi Yisroel Cohen

ישראל ב"ר שניאור זלמן הכהן
Rav, Kurenitz, Minsk, Belarus
Date of Death: Thu. March 19, 1903 - Adar 20 5663

Anyone with biographical information is asked to please send it in.
See CONTACT page for details. Thank you.
Cemetery:
Union Field Cemetery - Queens
Directions to Kever: Union Field Cemetery in Ridgewood, Queens maintains computerized records and will provide a detailed location map upon request. Location: See map picture below
Biographical Notes:
SPECIAL THANKS TO THE MEMBERS OF MORESHES CHACHMEI AMERICA, CHUNA LEIB BOSS, &  YIDEL RAPPAPORT FOR THEIR COUNTLESS HOURS OF RESEARCH IN HELPING TO LOCATE RAV KOHEN'S KEVER.
Bio Information:
Rav Yisroel Cohen was the older brother of "The Malach", Rav Chaim Avroham Dover Levine (Cohen) and arrived on these shores May 22, 1886 aboard the SS Catalonia along with his wife and five children. The Rav settled on Henry Street on the Lower East Side.
The Rebbitzen passed away a few year later on June 10, 1890. Where she was buried seems to be a mystery as her death certificate lists Union Field which was later crossed out and someone wrote in Bayside (Pitkin Avenue).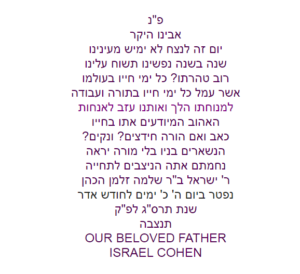 Photo Caption: Tombstone text (may have slight variation), Credit: Moreshes Chachmei America Archives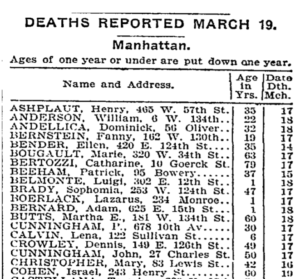 Photo Caption: Obituary in the New York Times announcing the Rav's death, Credit: NYT



Photo Caption: Obituary in the New York Times announcing the death of the Rav's daughter (January 4, 1923), Credit: NYT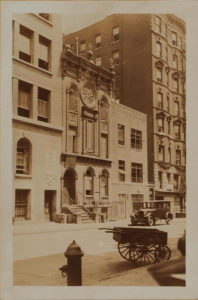 Photo Caption: Khal Chasidim Anshe Kurenitz located at 169 Henry Street on the Lower East Side, Credit: MCA



Credit: NYC
« Previous: Rabbi Yosef Sugarman
Next: Rabbi Yisroel Leibowitz »