Rav, New York City
d. 18 Teves, 1904 (5665)
Anyone with biographical information is asked to please send it in. See CONTACT page for details.
Directions to kever:
Bayside Cemetery
80-35 Pitkin Avenue
Ozone Park, NY 11417
212-874-7005
The cemetery is in disarray, use caution when visiting!!!
Click photo to enlarge , a new window will open, click that one as well.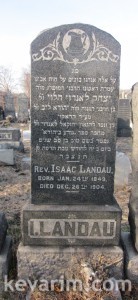 Photo Credit: Asher Lowy, Brooklyn, New York