Rabbi Yitzchok Yaakov Weiner

יצחק יעקב ב"ר עזריאל
Baal M'taame Yitzchak
Date of Death: Tue. December 16, 1958 - Teves 5 5719

Anyone with biographical information is asked to please send it in.
See CONTACT page for details. Thank you.
Cemetery:
Agudas Achim Cemetery - Los Angeles
Directions to Kever: The Agudath Achim Cemetery is not located near any of the Jewish neighborhoods in Los Angeles and does not have an on grounds caretaker. Access is 24-hours via the front gate. Combination: 7613 then push latch in.
Name Listed on Cemetery Database: Name listed on marker: Rabbi Isaac Jacob Weiner
Biographical Notes: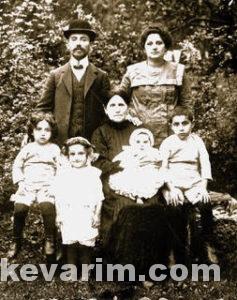 Photo Caption: Rav Weiner and his family, Credit: Jacob Weiner

Bio Information: 
Prior to Los Angeles, the Rav lived in Chicago, Illinois.
« Previous: Rabbi Kadish Zev Freedman
Next: Rabbi Ben Tzion Chodosh »