Rabbi Yosef Hillel Snapir

יוסף הלל ב"ר ישראל
Rav, Congregation Kesher Israel, Philadelphia
Date of Death: Sun. August 29, 1971 - Elul 8 5731

Anyone with biographical information is asked to please send it in.
See CONTACT page for details. Thank you.
Cemetery:
Montefiore Cemetery - Philadelphia
Directions to Kever: Montefiore Cemetery in Jenkintown, Pennsylvania. Jenkintown which is part of Abington Township is located about 10 miles north of downtown Philadelphia. Location: Needed
Name Listed on Cemetery Database: Name listed on marker: Rabbi Joseph Snapir
Biographical Notes:

Source: Jewish Post, Indianapolis, Marion County, 10 September 1971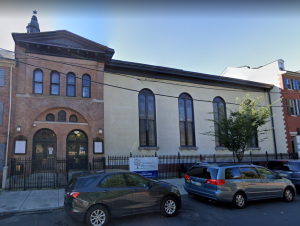 Caption: Congregation Kesher Israel as it stands today at 412 Lombard Street in  Philadelphia, Credit: Google 
Bio Information:
In addition to Philadelphia, Rabbi Snapir spent time in Galveston, Texas, Evansville, Indiana, Louisville, Kentucky, Winthrop, Massachusetts, and finally Harrisburg, Pennsylvania.

« Previous: Rabbi Yissachar Dov Halpern
Next: Rabbi Avroham Yaakov Teitelbaum »