Rabbi Yosef Yehuda Braun

יוסף יהודה ב"ר קלמן מאיר
Rav, Congregation Shearis Yaakov, Bronx, New York
Date of Death: Mon. April 28, 1958 - Iyar 8 5718

Anyone with biographical information is asked to please send it in.
See CONTACT page for details. Thank you.
Cemetery:
Beth David Cemetery - Long Island
Directions to Kever: Beth David Cemetery in Elmont, NY maintains computerized records and will provide a detailed location map upon request. Location: Section: G7 on Jericho Avenue, between Cleveland and Harrison Avenue alongside the Novominsker Rebbe ohel
Biographical Notes: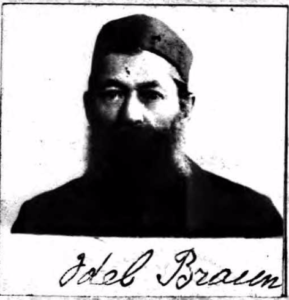 Credit: Moreshes Chachmei America
Bio Information:
Rav Braun who arrived on these shores in 1928, received ordination from the Chofetz Chaim.
« Previous: Rabbi Chaim Pinchas Eichler
Next: Rabbi Moshe Kluger »