Rabbi Zalman Tuvia Golubowski

Cong. Bais Yaakov – Anshi Sholom, Brooklyn, New York
Date of Death: Tue. November 20, 1945 - Kislev 16 5706

Anyone with biographical information is asked to please send it in.
See CONTACT page for details. Thank you.
Cemetery:
Wellwood Cemetery - West Babylon (Farmingdale)
Directions to Kever: Wellwood Cemetery on Long Island in Farmingdale, NY maintains computerized records and will provide a detailed location map upon request. Location: Along North Avenue, Block: 10 between path H1 and H2. Block 10 is directly across from the main office building.
Name Listed on Cemetery Database: Solomon Golubowski
Biographical Notes: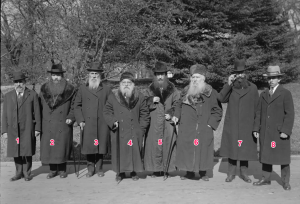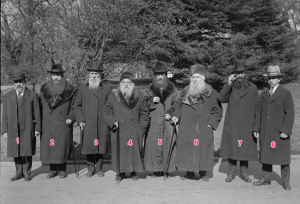 Photo Caption: A delegation of rabboinm in Washington, DC, 1925 (see list below), Credit: Moreshes Chachmei America's Archives
1. Rav Zalman Tuvia Golubowski, Bayonne, New Jersey
2. Rav Tzvi Hirsh Dachowitz, Agudath Achim Anshei Libowitz
3. Rav Menachem Yehuda Guzik, Makover Rav
4. Rav Avroham Aaron Yudelovitch, Eldridge Street Synagogue
5. Rebbe Yitzchok Leifer, Nedvorana Bronx Rebbe
6. Rav Gavriel Zev Margolis, Knesseth HaRabonim
7. Rav Avroham Miller, Cong. Bnai Yisroel of Borough Park
8. Lionel Golub, attorney representing the Union of Orthodox Rabbis on this endeavor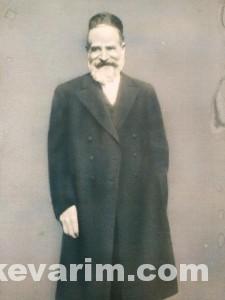 Photo Caption: Rabbi Zalman Tuvia Golubowski, Credit: Janice Singer-Capek, Atlanta, GA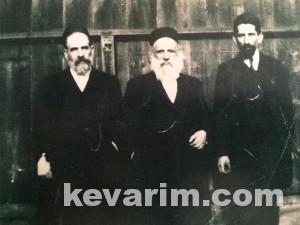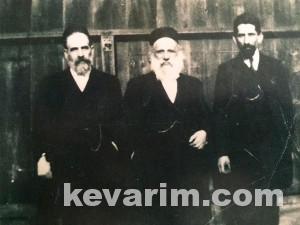 Photo Caption:  Rabbi Zalman Tuvia Golubowski,  Rabbi Avroham Aaron Yudelovitch (center), a third brother, Credit: Janice Singer-Capek, Atlanta, GA
« Previous: Rebbe Dovberish Dembinsky
Next: Rabbi Avroham Ben Tzion Benjamin »