Rabbi Zev Chaim Goldberg

זאב חיים ב"ר משה יששכר
Rav, Bnai Jacob
Date of Death: Sun. May 5, 1935 - Iyar 2 5695

Anyone with biographical information is asked to please send it in.
See CONTACT page for details. Thank you.
Cemetery:
Mount Carmel Cemetery Section 2 & 3 - Glendale (Queens)
Directions to Kever: New Mount Carmel Cemetery in Queens maintains computerized records and will provided a detailed location map upon request. Section: 2, Block: 4, Map: 2, Line: 9, Society: BNAI JACOB
Name Listed on Cemetery Database: GOLDBERG, WOLF
Biographical Notes: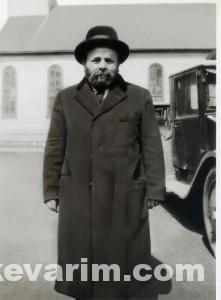 Photo Caption:  Rabbi Chaim Zev Goldberg, in front of the Schul in Ansonia CT, Credit: Jonathan Rubin 
Bio Intimation:
(Reprinted with permission of Jonathan Rubin)
Rabbi Zev Chaim Wolf Goldberg, was born March 15, 1881, in Kolna, Poland, to poor parents [1] who eked out a meager survival from carpentry. Even though he was a young adolescent [2], he learned in the yeshivas of Lomza and Slobodka [3]. Later he moved to the Etz Chayim yeshiva in Slutsk [4]. His wife was Hod'l [5], daughter of Kadish der Melamed. When he was ordained as a rabbi, he acceded to the request of the illustrious Reb Moshe Mordecai Epstein to travel to America and raise funds for the Slobodka yeshiva [6]. The New World and its democratic institutions found favor in his eyes, and he almost decided to remain there and serve as a rabbi. But he returned to Slutsk.
He chose not to make the Torah his means of livelihood [7]. He did not return to the rabbinate upon coming back to Slutsk. He tried his hand at business [8], but since he never really understood the ways of commerce, he made nothing. Most of his time was spent in the study of Torah and books of Jewish ethics.
The outbreak of World War I opened many opportunities for massive assistance to Jews in distress. Abba took upon himself the responsibility for helping unfortunate co-religionists who suffered effects of the war. This was the acme of his activities during those "days of awe." The large local population of paupers was swollen by refugees who fled border towns – entire families lacking all necessities, some of them affluent Jews who had lost their fortunes, women whose husbands had been conscripted into army service, leaving them and their children destitute, without means of support.
Infectious illnesses swept through the town. The problems of providing food, clothing, shelter, and medicine for the refugees occupied the energies of the triumvirate which devoted itself to public aid: Dr. Shildkraut, father and patron to all the inhabitants of the town, Reb Yeshaya Mendel Deretzin, an energetic public figure with a noble heart, and my father and teacher.
Daily they would supply flour or bread to the needy. Every Friday morning they would distribute two challahs for lechem mishneh for the Shabbat meals. (If my memory does not deceive me, the distribution took place in the Linat Tzedek office in the Cold Shul.). Father would 'hide' a few challahs to give secretly to householders who had lost everything, or to scholars and members of prominent families, so as to spare them the embarrassment of waiting in the queue.
Although father was rigid in religious matters, he valued the study of the Hebrew language and Jewish literature, and did not prevent me from studying Tanakh and reading Modern Hebrew literature. With the Bolshevik revolution, the situation in the city took a turn for the worse. The war between the Bolsheviks and the Poles brought ruination. When the former advanced, the town faced the danger of starvation, illness, and fear for the future of religious life. When the Poles advanced, life itself was threatened. The troops of the "Lerchikim" and the "Poznatchikim" molested Jews, killed them, wounded them, and plucked beards. Jews were hurled from trains. Many were murdered by hooligans in neighboring villages and brought to Slutsk for burial. Father fled to America. After three years he was able to bring over his family. This was accomplished by waiting until Slutsk was under Polish control. Slutsk was near the border, and changed hands with some frequency. Therefore, the family was able to make plans with the assumption that sometime in the next few months, Slutsk would be under Polish rule. The family then requested to be 'repatriated' deeper into Poland, to Kolno, Fathers birthplace. This was because the Polish quota for visas to the United States was never filled, unlike the Russian quota, which had a long waiting list. In Kolono, Fathers brother [9] found an old doctor who swore out an affidavit that he had delivered Mother and all the children, thus making them Polish citizens. Father went ahead to America, and sent money for our fares. The family spent Yomim Noraim on the ship, and arrive in America on Hosanah Rabbah of 1923. But his connection with Slutsk did not cease; he helped support the yeshivas in Slutsk and in Kletsk. This is attested to by letters in my possession written by Reb Aharon Kotler and Reb Asher Sandomirsky, who was spiritual mentor in the Etz Chayim of Slutsk [10].
The following is a portion of a letter from the latter, dated 24 Tammuz 5683 (July 8th, 1923), after Reb Isser Zalman had been forced to leave:
"There are about 100 Torah scholars who sacrifice themselves, just as did our great leaders and sages of old in the days of the evil decrees. We can say of them, 'Should a man die in the tent…' [Midrash exegesis reads this as referring to "the tent of Torah", i.e., one who devotes his total self to the study of Torah]. This institution is the largest and most important, the sole remnant, which remains in all our land… God forbid that this holy institution be destroyed because of material causes."
[In America, Father served initially as Rabbi in Derby and Ansonia [11] Connecticut. Although he had secured a prestigious position as Rabbi in a prominent synagogue in Williamsburg, a local congressman [12] promised him that were he to relinquish said position to another[13], the congressman would aid him in securing visas for the entire family. After three years in Connecticut, the family joined him in America. In spite of the relative prosperity and tranquility[14] enjoyed in Connecticut, seeing that there was no future for his children in Connecticut[15], he moved to East Broadway in the lower East Side. Shortly afterwards, he accepted a position in Park Slope as Rabbi of the three local synagogues. There he also supplemented his meager income by acting as a Masgiach in the local butcher shops and chicken slaughterhouses. As Rabbi in Park Slope, he fought to uphold Torah observance, something that caused a great deal of friction between him and his congregations. He was instrumental in establishing one of the first cemeteries for only Shomre Shabbos. A close friend to Rav Yosef E. Henkin, from their days together in Slutsk [16], Rav Henkin was instrumental in securing his position in Park Slope.]
Father died in New York in on the Second day of Iyar 5695 (May 5th1935).
[1] There was a brother William living in Cleveland, and one Josef, born in 1891 who moved to Berlin and perished in Minsk in a concentration camp.
[2] As per Uncle Joseph, when at 10 -11 his parents sent him to fend for himself. The local Gabbai, recognizing his ability, convinced him to enroll in Yeshiva by promising to arrange 'teg' for him.
[3] Where he was known as Velvel Kolna.
[4] He was among the first students of the Slutsk yeshiva, when it opened initially. Interestingly, he had two close friends in America from his days in Slutsk, Rav Henkin, and Rav Moshe Palayoffe.
[5] Given name was Hadassah.
[6] MAOG describes an additional fundraiser at the time, R' Avrahom Shimon Geffen of Ritteveh as a super genius. He was the same age as RZG, and studied in Slabodka at the same time.
[7] Both Rav Palayoffe and Rav Henkin, two of his contemporaries from Slutsk were also initially involved in business prior to obtaining positions. A biography of Rav Palayoffe attributed this to the scarcity of rabbinic positions in Europe at that time.
[8] Largely assisting his wife in her trade of millinery. The 1907 Duma Voter Lists list him as a Trader 3rd Class, which was the lowest level possible for a businessman.
[9] This was XXX Goldberg, who was also a council man in Kolno.
[10] In the letters of Uncle Moshe Yissochar, he mentions that he received 20,000 marks for clothing to travel to America "not in my honor, but in the honor of my forefathers".
[11] There were two Shuls in Ansonia (one Ashkenaze and one Sefard) and one in Derby 20 minutes away.
[12] I presume this was Sol Bloom, who was the local congressman in Williamsburg, and Orthodox enough to have an interest in who became Rabbi where. He was also influential with the State Dept, and was in a position to make such a promise.
[13] I believe some relative of the congressman.
[14] While in Conn he had a major fight with one of the prominent families in town, by refusing to accept their relative who was the existing local butcher/shochet, and working to import a new butcher/shochet. This resulted in a Din Torah, during which the shochet was presented with a chalif (slaughterers knife) with imperfections. The Shochet was unable to detect the imperfections. The verdict was that he could no longer serve as a shochet, and the community had to find him a different form of livelihood. Naturally, this put a strain on his relations with that family and their supporters. Interestingly, one of the only documents from his Ansonia period is a Heter Scheitah to a replacement schochet/butcher.
[15] Although Rav Levenberg (whom he presumably knew from his days in Slabodka) had a Yeshiva 15 minutes away in New Haven, for some reason he did not send his children there. Uncle Joseph thought perhaps Rav Levenburg refused to accept them (they went for an entrance exam), as they were slightly younger than the norm. An alternative possibility is, as his letters from Rav Paleyoffe make clear, he was trying to obtain a position in Yeshiva University, and may have felt it would help his chances if his children were members of the student body. Bubby has mentioned to me that he attempted to obtain a position in the New Haven Yeshiva, and was put out when he didn't receive it, which might explain why he didn't send his children there. In the letters from Rav Paleyoffe, there is a letter written to convince Uncle Moshe Yissachar to attend YU.
[16] Uncle Joseph related that when he applied for his naturalization papers, he had to prove that he was a legitimate child of a US citizen (his parents). Rav Henkin accompanied him to the naturalization hearing, and testified that he was present by his parents wedding, and by Uncle Joseph's bris, and that Uncle Joseph was in fact their child.