Rabbi Yehoshua Falk

יהושע ב"ר מרדכי הכהן
The American Maggid (Preacher)
Date of Death: Wed. November 16, 1864 - Cheshvan 17 5625

Anyone with biographical information is asked to please send it in.
See CONTACT page for details. Thank you.
Cemetery:
Salem Fields Cemetery - Brooklyn
Directions to Kever: Salem Fields Cemetery in the Cypress Hills neighborhood on the Brooklyn / Queens boarder is a Reform cemetery with a few Orthodox sections. Location: Congregation Shaaray Torah section near the office building. Rabbi Dovid Yitzchok Adelson and Rabbi Aaron Tzvi Friedman are buried in the same section.
Name Listed on Cemetery Database: Name listed on marker: Joshua Falk Cohen
Biographical Notes:
A special thanks to Asher Lowy, Aaron Feder and the rest of the Moreshes Chachmei America team for the hours of research and fieldwork (close to 7 years) in a united effort to locate the kever of Rav Yehoshua Falk.

---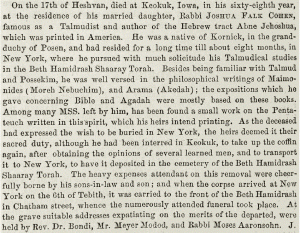 Photo Caption: The Occident, February, 1865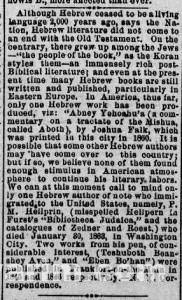 Photo Caption: The Star, June, 1875 – Cincinnati, Ohio

Bio Information:
Rav Falk came to the United States in 1858 and for a short time served as Rav of Newburgh and Poughkeepsie, New York. He also delivered lectures regularly at Congregation Shaaray Torah in New York City. The Rav's safer, Avnei Yehoshua, was the first book on Pirkei Avos printed in North America.
In 1864, while visiting his daughter, he passed away in Keokuk, Iowa, where he was buried. Per his request he was reburied in the Congregation Shaaray Torah Section of the Salem Field Cemetery on the boarder of Brooklyn and Queens.