Rebbe Aryeh Leibish Teitelbaum

אריה לייבוש ב"ר יחיאל
Kolbasover Rebbe of New York City
Date of Death: Wed. February 26, 1941 - Shevat 29 5701

Anyone with biographical information is asked to please send it in.
See CONTACT page for details. Thank you.
Cemetery:
Mount Hebron Cemetery - Kew Gardens Hills (Main Street)
Directions to Kever: Mount Hebron Cemetery in Flushing, Queens maintains computerized records and will provide a detailed location map upon request. Location: Block 43, facing block 51
Name Listed on Cemetery Database: LEIB TEITELBAUM
Biographical Notes: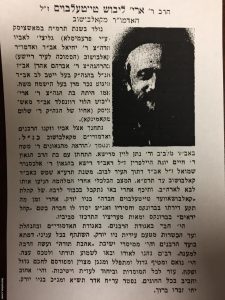 Source: Anshei Shem
Bio Information:
The Rebbe immigrated to the United States in 1921, his father a grandson of the Yetev Lev was murdered in 1942 during the Holocaust.
« Previous: Rabbi Shlomo Tuvia Jaffe
Next: Rebbe Chaim Shlomo Lowey »