Rebbe Baruch Ben Tzion Twersky

ברוך בן ציון ב"ר מרדכי
Loyev Chernobyler Rebbe
Date of Death: Fri. August 31, 1945 - Elul 22 5705

Anyone with biographical information is asked to please send it in.
See CONTACT page for details. Thank you.
Cemetery:
Wellwood Cemetery - West Babylon (Farmingdale)
Directions to Kever: Wellwood Cemetery on Long Island maintains computerized records and will provide a detailed location map upon request. Location: Along South Avenue, Block: 52, Society: TWERSKY RABBI FOUNDATION, (the first section after the green and red fence) along the road.
Name Listed on Cemetery Database: BARUCH TWERSKY
Biographical Notes: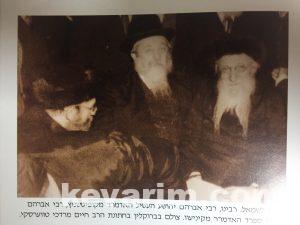 Photo Caption (From R-L) Loyev Chernobyler Rebbe, Kapishnitzer Rebbe, and (side profile) Kinyev Rebbe, Credit: Yitz Twersky, Kew Gardens Hills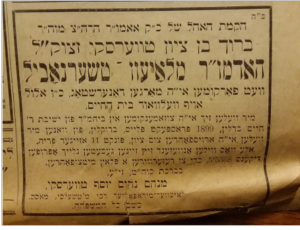 Source: Needed, Origination Credit: Joel Rosenfeld
« Previous: Rabbi Pinchos Eliezer Ravid
Next: Rabbi Avroham Yehuda Libin »