Rebbe Moshe Teitelbaum

משה ב"ר חיים צבי
Satmar Rebbe Berach Moshe
Date of Death: Mon. April 24, 2006 - Nissan 26 5766

Anyone with biographical information is asked to please send it in.
See CONTACT page for details. Thank you.
Cemetery:
Kiryas Yoel Village Cemetery - Monroe
Directions to Kever: Kiryas Yoel Village Cemetery in upstate Monroe, NY can be hard to navigated. Asking directions prior to your visit is recommended. An updated list of interments is located on the bulletin board near the cemetery entrance. Location: Large ohel at the top of the cemetery.
Biographical Notes:
Bio Information:
Scores of books have been and continue to be  published on the life and times of  Rebbe Moshe Teitelbaum of Satmar.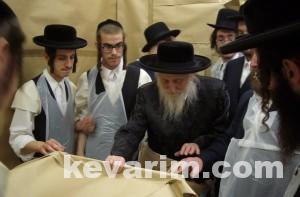 Photo Caption: Rebbe Moshe Teitelbaum, Satmar Rebbe, Credit: Needed 
« Previous: Rebbe Yoel Teitelbaum
Next: Rabbi Chananya Yom Tov Lipa Deutch »