Rebbe Shmuel Kaufman

שמואל ב"ר אברהם דוד
Miropoler Rebbe
Date of Death: Mon. June 20, 1938 - Sivan 20 5698

Anyone with biographical information is asked to please send it in.
See CONTACT page for details. Thank you.
Cemetery:
Old Montefiore Cemetery Chabad Entrance - Queens
Directions to Kever: Old Montefiore Cemetery in Queens maintains computerized records and will provide a detailed location map upon request. Location: Gate: 52A/S OPP. 93, Block: 97, around 150 feet to the right of the Chabad ohel along Abraham Avenue on the right side. Society Name: GRAND RABBI SAMUEL KAUFMAN
Name Listed on Cemetery Database: SAMUEL KAUFMAN
Biographical Notes: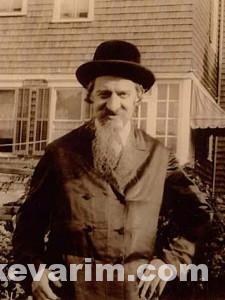 Photo Caption: Rebbe Shmuel Kaufman in New York City, Credit: Needed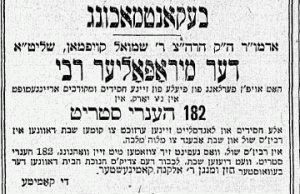 Photo Credit: The Jewish Morning Journal, December 8th, 1921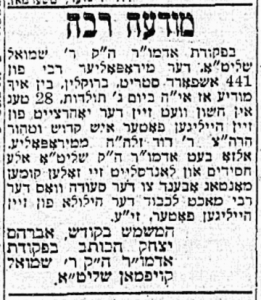 Photo Caption: Advertisement announcing the upcoming yartzeit of the Rebbe's father, Credit: The Jewish Morning Journal, November 27, 1921
Bio Information:
The Rebbe was a great grandson of Rebbe Shmuel Kaminker (the second, d. 1843) the student of Rebbe Levi Yitzchok of Bardichev and Rebbe Avroham Yehoshua Hershel of Apt. The Rebbe's maternal great-grandfather Rebbe Arele of Totiv was a grandson of Rebbe Yisroel Baal Shem Tov.
« Previous: Rebbe Asher Yeshaya Eichenstein
Next: Rebbe Ben Tzion Yehuda Leib Twersky »