Entries Tagged as 'Woburn Jewish Cemeteries'
אהרן ב"ר אברהם יצחק
Rav, New Haven, Connecticut
Date of Death: Sun. December 1, 1974 - Kislev 17 5735

Tags: Massachusetts · Woburn Jewish Cemeteries
אברהם משה ב"ר חיים שמואל
Chief Rabbi, Portland, Maine
Date of Death: Thu. June 2, 1927 - Sivan 2 5687

Bio Information: 
Rav Avroham Moshe Shershevsky authored Nachal Avroham which includes a collection of droshos (sermons) he deliverer in Portland. In 1898, Rav Shershevsky moved to Boston, MA where he remained until in passing.
Tags: Chief Rabbi · Massachusetts · Woburn Jewish Cemeteries
מרדכי ב"ר צבי הירש
Rav, Altoona, Pennsylvania
Date of Death: Thu. December 22, 1932 - Kislev 23 5693


Photo Caption: Short bio for Rabbi Mordechai Klatchko, Credit: Needed
Tags: Massachusetts · Woburn Jewish Cemeteries
רפאל אביגדור ב"ר יצחק
Chief Rabbi, Manchester, New Hampshire
Date of Death: Sun. July 10, 1955 - Tammuz 10 5715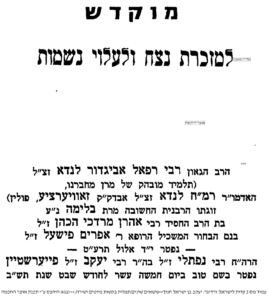 Photo Caption: Memorial for Rav Landau, Credit: Moreshes Chachmei America's Archives
Bio Information:
The Rav also served in Brookline and Boston.
Tags: Massachusetts · Woburn Jewish Cemeteries
Rav, Machzeke Torah, Brownsville, NY d. 24 Tishrei, 1937 (5698) Isru Chag Anyone with information is asked to please send it in. See CONTACT page for details. Directions to kever: Woburn Jewish Cemeteries 11 Washington Steet Woburn, MA 01801 Location: Section: Agudath Achim located on C Street, Row: 13 Photo Credit: Mayer Abramowitz, Chachmei New […]
Tags: Boston, MA · Massachusetts · Woburn Jewish Cemeteries
ישראל אברהם אבא ב"ר חיים זאב
Rav, Boston, Massachusetts
Date of Death: Thu. January 8, 1931 - Teves 19 5691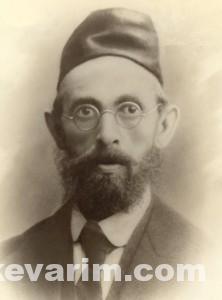 Photo Caption: Rabbi Yisroel Avorham Abba Krieger, Credit: Michael Harel
Bio Information: 
The Rav Was born in Shpeishuk, a small village near Kovno, Lithuania where His father Rav Chaim Zev server as Rav. At the young age of 8, the Rav was sent to the yeshiva in Eishishok to study. His After bar mitzvah he Traveled to Jerusalem where he Entered the study hall of Rav Yehoshua Leib Diskin, Diligently studying for five years. In 1890 he returned to Europe and settled in Dvinsk where he became a disciple of Rev Meir Simcha HaKohen. Two years Later Around Was he appointed the Rav of Kosherdari and soon after Frankfurt am Main. Due to His Lack of success n Germany he Traveled to American and Settled in Boston, Massachusetts where he Was appointed as Rav and a authoritative member of the Agudath Harabonim.
Among His writings are China Dchaye (Pietrokov, 1908), Lirtzonchem Tizbechuhu (Pietrokov, 1908), Olah Lyafeh (Pietrokov, 1911), and posthumously Taanugei Yisroel, 2 Vol. (Brooklyn, 1981), Kedushas Bas Yisroel, (Brooklyn, 1982), and Yad Yisroel (Brooklyn, 1985). Addition the Rav In Was a regular contributor to the Hapardes Rabbinical Piratical.
Source: Orthodox Judaism in America, Moshe D. Sherman
Tags: Boston, MA · Massachusetts · Mystery · Woburn Jewish Cemeteries
Rav, Woburn, Massachusetts d. 27 Sivan, 1934 (5694) The Rav who was from Kuvno, Lithuuania was a descendant of the Vilna Gaon's sister. Anyone with information is asked to please send it in. See CONTACT page for details. Directions to kever: Woburn Jewish Cemeteries 11 Washington Steet Woburn, MA 01801 Location: Section: Shomrei Shabos Cemetery of […]
Tags: Boston, MA · Massachusetts · Woburn Jewish Cemeteries
יצחק זאב ב"ר יוסף צבי
Rav, Boston, Massachusetts
Date of Death: Sun. August 16, 1925 - Av 25 5685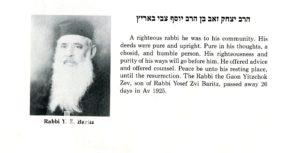 Credit: Chachmei Yisroel Of New England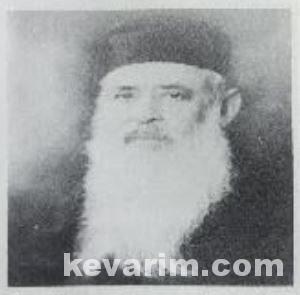 Credit: Moreshes Chachmei America