Entries Tagged as 'Tennessee'
אברהם יהודה ב"ר מיכאל אליעזר
Rav, Knoxville, Tennessee
Date of Death: Wed. August 17, 1955 - Av 29 5715

Tags: Tennessee
שאלתיאל אייזק ב"ר יצחק
Chief Rabbi, Chattanooga, TN
Date of Death: Sun. January 18, 1948 - Shevat 7 5708

Tags: Chief Rabbi · Tennessee
יצחק מנחם ב"ר יעקב אהרן
Rav, Cong. Heska Amuna, Knoxville, Tennessee
Date of Death: Wed. June 30, 1926 - Tammuz 18 5686

The congregation which was originally Orthodox, intended name was Chaskei Emunah however due to a spelling mistake in its founding charter (1890) it has since been known as Heska Amuna.
Tags: Tennessee
יואל ב"ר יצחק אלקסנדר
Rav, First Jewish Congregation Beth Israel, Memphis, TN
Date of Death: Fri. August 10, 1866 - Av 29 5626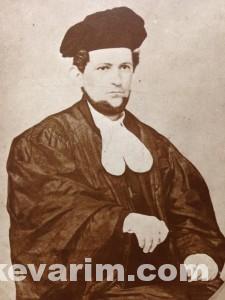 Photo Caption: Rev Yoel Alexander, Credit: Walter J. Addison and Deborah Addison Coburn

Click attached link:
Rev. Joel Alexander MemorialNew

Bio Information:
The Rav was born in Posen and studied at the Yeshiva in Munster, Germany. He was ordained by the great Rabbonim of Posen and Rav Nosson Marcus Adler (d. 1890), Chief-Rabbi of the United Kingdom of Great Britain.  Soon after arriving in New York the Rav was appointed as Hebrew Reader (equivalent of  Chief Rabbi) of the First Jewish Congregation Beth Israel in Brooklyn, NY. He later served in Memphis, TN where he was interred.
Tags: Chief Rabbi · Pre 1900 · Tennessee