Rabbi Yoel Alexander

יואל ב"ר יצחק אלקסנדר
Rav, First Jewish Congregation Beth Israel, Memphis, TN
Date of Death: Fri. August 10, 1866 - Av 29 5626

Anyone with biographical information is asked to please send it in.
See CONTACT page for details. Thank you.
Cemetery:
Baron Hirsch Congregation Cemetery - Memphis
Directions to Kever: Baron Hirsch Congregation Cemetery - Memphis, Tennessee maintains computerized records and will provided a detailed location map upon request.Section: 53, Row: Z, Plot: 3, old section of cemetery
Name Listed on Cemetery Database: Name listed on marker: Rev Joel Alexander
Biographical Notes: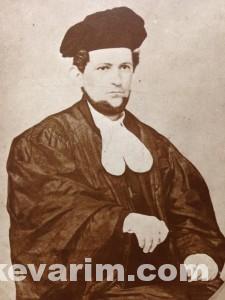 Photo Caption: Rev Yoel Alexander, Credit: Walter J. Addison and Deborah Addison Coburn

Click attached link:
Rev. Joel Alexander MemorialNew

Bio Information:
The Rav was born in Posen and studied at the Yeshiva in Munster, Germany. He was ordained by the great Rabbonim of Posen and Rav Nosson Marcus Adler (d. 1890), Chief-Rabbi of the United Kingdom of Great Britain.  Soon after arriving in New York the Rav was appointed as Hebrew Reader (equivalent of  Chief Rabbi) of the First Jewish Congregation Beth Israel in Brooklyn, NY. He later served in Memphis, TN where he was interred.