Delegation of of Rabbonim

משלחת של רבנים לעיר הבירה וושינגטון
Washington, DC c.1912
Date of Death: Mon. January 1, 1912 -
Exact date is unknown
Anyone with biographical information is asked to please send it in.
See CONTACT page for details. Thank you.
Cemetery:
Delegation Of Rabbonim Pictures
Directions to Kever:
Biographical Notes: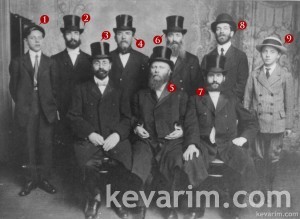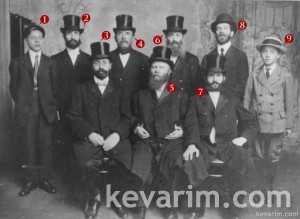 Photo Caption: Delegation of Rabbanim, to meet with President William Howard Taft c. 1912, Credit: N/N
Pictured are:
1. Unknown child
2. Rav Yitzchok Siegel, Bayonne, NJ
3. Rev Glushok, Washington, DC
4. Rav Avroham Alperstein, New York City
5. Rav Gedaliah Silverstone, Washington, DC
6. Rav Dovid Ginsburg, Wilkes-Barre, PA
7. Rav Eliezer Silver, Harrisburg, PA
8. Rav Yaakov Redelheim, New York City
9. Unknown child
Note: 
William Howard Taft served as the27th president of the United States from 1909 to 1913.
« Previous: Traveling To Eastern Europe
Next: Rabbi Yehuda Idel Idelson »