Manischewitz Matzah Bakery

Jersey City, New Jersey
Date of Death: Thu. April 1, 1943 -

Anyone with biographical information is asked to please send it in.
See CONTACT page for details. Thank you.
Directions to Kever:
Biographical Notes:
Bio Information:
The B. Manischewitz Company, LLC was founded by Rabbi Dov Behr Manischewitz, in 1888 in Cincinnati, Ohio. The Company went public in 1923 and remained a public corporation until it was taken private in a management buyout led by Kohlberg & Company in 1990 for $42.5 million. It is the world's largest matzo manufacturer and one of America's largest and most recognizable kosher brands.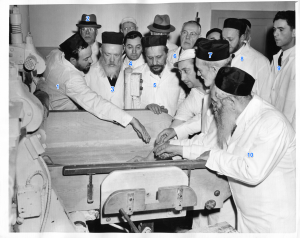 Photo Caption: Rabbonim gather to supervise a special run (chabura) of matzoh at Manischewitz Bakery in Jersey City. Credit: IFJCAH
Note: Please help us identify the rabbonim in the picture.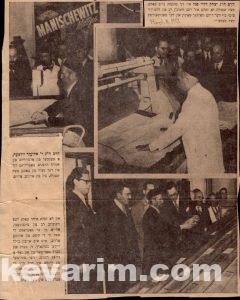 Photo Caption: Rabbonim headed by Rav Eliezer Silver of Cincinnati, gather to supervise a special run (chabura) of matzoh at Manischewitz Bakery in Jersey City, March 8, 1953. Credit: IFJCAH