Rabbi Aaron Ben Tzion Benson (Aaronsohn)

אהרן בן ציון ב"ר יוסף משה
Rav, Indianapolis, Indiana
Date of Death: Mon. May 5, 1879 - Iyar 12 5639

Anyone with biographical information is asked to please send it in.
See CONTACT page for details. Thank you.
Cemetery:
Kelly Street Historic Jewish Cemeteries - Indianapolis
Directions to Kever: Kelly Street Historic Jewish Cemeteries located in Indianapolis, Indiana has a number of sections, see "Cemetery Details" above for more information.
Biographical Notes:
A SPECIAL THANKS TO THE MEMBERS OF MORESHES CHACHMEI AMERICA, MR. ASHLEY DWORSKY, & RABBI JOSEPH SCHANOWITZ OF CHICAGO FOR THEIR COUNTLESS HOURS OF RESEARCH IN THE ONGOING SEARCH TO LOCATE RAV AARONSOHN'S KEVER.   
Bio Information:
The Rav, who was born in Salant (Salantai), Lithuania was the oldest son of Rav Moshe Yosef Aaronsohn better known as the East Broadway Maggid. Rav Benson was very instrumental in the publishing and distribution of his father's seforim (books).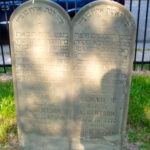 Credit: Photo Caption: Marker of Aaron Ben Tzion's wife and daughter Thema Tova and Chai Sarah at the Jewish Bryner Cemetery located at 1915 Wilson Avenue in Madison, Indiana (there are all of 22 interments at the cemetery), Credit: Quietude