Rabbi Aryeh Leib Binkowitz

אריה ליב ב"ר אברהם שלומה
Chief Rabbi, Białystok, Poland (formally part of the Russian Empire)
Date of Death: Thu. October 10, 1907 - Cheshvan 2 5668

Anyone with biographical information is asked to please send it in.
See CONTACT page for details. Thank you.
Cemetery:
Bayside Cemetery- Pitkin Avenue in Queens
Directions to Kever: Although in a constant state of cleanup the Bayside Cemetery on Pitkin Avenue in Ozone Park Queens is in extreme disarray and can be dangerous, use caution when visiting!!! Actual care is provided by Cong Shaare Zeedk on the Upper West Side, they claim that all records were lost in a fire. Should an Emergency arise call 911. Location: Path V corner Path B, Enter at Path A, right on Path V until the end. Path V starts behind the Stich Mausoleum, the first mausoleum behind the office.
Name Listed on Cemetery Database: Name listed on marker: Rabbi Ariah Leib Binkovitz
Biographical Notes: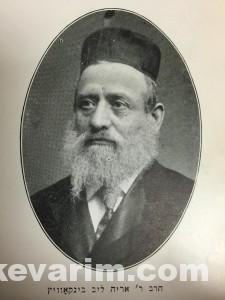 Photo Caption: Rav Aryeh Leib Binkowitz, Credit: Institute For Judaic Culture and History (IFJCAH)