Rabbi Avigdor Regenbogen

אביגדור ב"ר אליעזר אשר
Rav, Chortkover Klaus of Brooklyn
Date of Death: Sun. August 11, 1935 - Av 11 5695

Anyone with biographical information is asked to please send it in.
See CONTACT page for details. Thank you.
Cemetery:
Mount Zion Cemetery - Queens
Directions to Kever: Mount Zion Cemetery in Queens maintains computerized records and will provide a detailed location map upon request. Location: Path: 22R, Gate: 22 alongside the Sadigerer Rebbe's ohel
Name Listed on Cemetery Database: REGENBOGEN, VIGDOR
Biographical Notes:
Bio Information:
Rav Regenbogen was the official emissary of Rebbe Yisroel Friedman the Chortkover Rebbe in New York. Prior to establishing the Chortkover Klaus (13th Avenue and 50th Street) in 1925, the Rav was the official lecturer at the Sadigerer Klaus on the Lower East Side.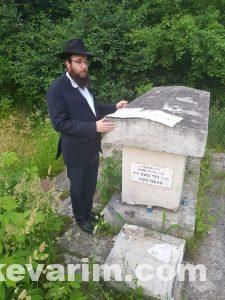 Photo Caption: Chabad Rabbi (name needed) visiting the ohel of Rebbe Dovid Moshe of Chortkov (d. 1903), Credit: Needed