Rabbi Avoham Nachum Meyerowitz

אברהם נחום ב"ר צבי יהודה
Rav, Chevra Machzika Torah, Brownsville, Brooklyn
Date of Death: Sun. January 2, 1955 - Teves 9 5715

Anyone with biographical information is asked to please send it in.
See CONTACT page for details. Thank you.
Cemetery:
Old Montefiore Cemetery - Queens
Directions to Kever: Old Montefiore Cemetery in Queens maintains computerized records and will provide a detailed location map upon request. Gate: 45/N, Block: 92, Row: 001R, Grave: 7, Society Name: CHEV. MACHZIKAY TORAH OF B'VILLE, back row, see map below. Note: Alongside Rabbi Dovid Leib Kozlowitz
Name Listed on Cemetery Database: MEYEROWITZ, ABRAHAM
Biographical Notes:
Bio Information:
The Chevra Machzika Torah building located at 354 Osborn Street has long been replaced by the Brownsville Houses, Housing Projects.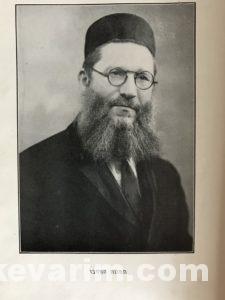 Photo Caption: Rav Avroham Nachum Meyerowitz, Credit: Jared Meyerowitz, Henderson, Nevada