Rabbi Dovid Leiter

דוד ב"ר זאב וואלף
Rav, Congregation Tree of Life, Uniontown, Pennsylvania
Date of Death: Thu. February 14, 1980 - Shevat 27 5740

Anyone with biographical information is asked to please send it in.
See CONTACT page for details. Thank you.
Cemetery:
Mount Lebanon/Forest Lawn Cemetery - Iselin
Directions to Kever: Mount Lebanon / Forest Lawn Cemetery in Iselin, NJ maintains computerized records and will provide a detailed location map upon request. Location: Needed
Name Listed on Cemetery Database: Name listed on marker: Rabbi David Leiter
Biographical Notes: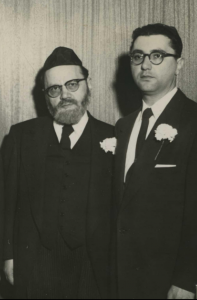 Photo Caption: Rabbi Leiter (R) along with his father Rav Zev Wolf (L). The older Rav Leiter served at The Maimonides Institute of Pittsburgh and was buried in Bnai Brak. 
Note: Congregation Tree of Life in Uniontown should not be confused with the Tree of Life Synagogue in the Squirrel Hill neighborhood of Pittsburgh, Pennsylvania.