Rabbi Avroham Aver Hirshowitz

Baal Bais Avroham
Date of Death: Thu. October 9, 1924 - Tishrei 11 5685

Anyone with biographical information is asked to please send it in.
See CONTACT page for details. Thank you.
Directions to Kever: Rabbi Hirshowitz died in Jerusalem.
Biographical Notes: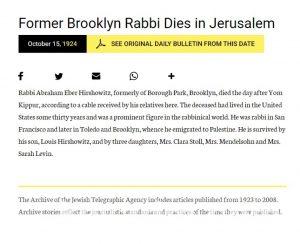 Source: The Archive of the Jewish Telegraphic Agency
Bio Information:
The Rav wrote many seform, all contain approbations from the leading period rabbonim among them, Rav Yitzchok Elchonon Spector of Kovno, Rav Hillel Ha-Kohen Klein of Ohab Zedek in New York City, Rav Avroham Yaakov Gershon Lesser of Cincinnati, Rav Chaim Yaakov Widerwitz of Moscow, and Rabbi Shalom Elchonon Yaffe (Jaffe) of the Bais Medrash HaGadol of Norfolk Street just to name a few.
« Previous: Rabbi Azriel Siff
Next: Rabbi Elozor Speisman »