Rabbi Avroham Miller

אברהם ב"ר אהרן יוסף
Rav, Beth Israel Shul, Borough Park, Brooklyn
Date of Death: Wed. January 10, 1940 - Teves 29 5740

Anyone with biographical information is asked to please send it in.
See CONTACT page for details. Thank you.
Cemetery:
Beth David Cemetery - Long Island
Directions to Kever: Beth David Cemetery in Elmont, NY maintains computerized records and will provided a detailed location map upon request. Location: Section G9, at the Intersection of Cleveland and Joshua Aveneus, Society Tiferes Yerushalayim
Biographical Notes: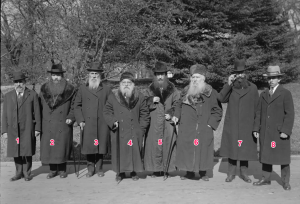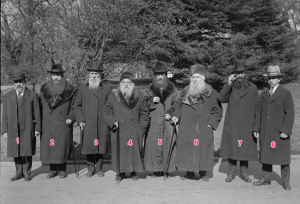 Photo Caption: A delegation of rabboinm in Washington, DC, 1925 (see list below), Credit: Moreshes Chachmei America's Archives

1. Rav Zalamn Tuvia Golbowsky, Bayone, New Jeresy
2. Rav Tzvi Hirsh Dachowitz, Agudath Achim Anshei Libowitz
3. Rav Menachem Yehuda Guzik, Makover Rav
4. Rav Avroham Aaron Yudelovitch, Eldridge Street Synagogue
5. Rebbe Yitzchok Leifer, Nedvorana Bronx Rebbe
6. Rav Gavriel Zev Margolis, Knesseth HaRabonim
7. Rav Avroham Miller, Cong. Bnai Yisroel of Borough Park
8. Unknown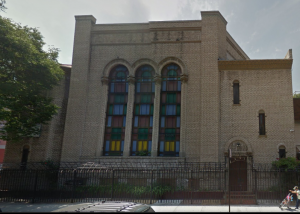 Photo Caption: Side view of the original Sheerith Yisroel building at 841 Southern Boulevard in the Bronx as it stands today. Credit: google maps
Bio Information:
Originally from Kovno, Rav Miller immigrated in the year 1911 under the name Charnofsky. He changed it back to Miller in 1921—at the same time that he assumed the position of Rav of the Beth Israel shul in Borough Park. His career is replete with leading his fellow Jews in numerous communities, in his activism at Agudas Harabanim, and in his Torah greatness.
Miller Community Pioneers
Source: Hamodia, 2016
« Previous: Rabbi Yeshaya Rubin
Next: Rabbi Aaron Stern »