Rabbi Avroham Pollack

אברהם בן יעקב
Chief Rabbi, Poughkeepsie, Dutchess County, New York
Date of Death: Sun. April 15, 1934 - Nissan 30 5694

Anyone with biographical information is asked to please send it in.
See CONTACT page for details. Thank you.
Cemetery:
Union Field Cemetery - Queens
Directions to Kever: Union Field Cemetery in Ridgewood, Queens maintains computerized records and will provide a detailed location map upon request. Location: Gate: 32
Biographical Notes: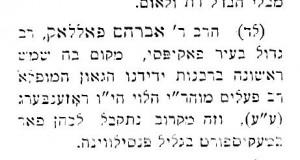 Photo Caption: From Eisenstadt
Bio Information: 
In addition to Poughkeepsie, the Rav served in McKeesport, Pennsylvania and prior to his arrival on these shores Jombeck, Hungary.
« Previous: Rabbi Shimaryau Gitin
Next: Rabbi Baruch Dovid Weitzman »