Rabbi Avroham Yitzchok Trager

אברהם יצחק ב"ר יהודה ליב
Rav, Columbia, South Carolina
Date of Death: Wed. March 5, 1913 - Adar I 27 5673

Anyone with biographical information is asked to please send it in.
See CONTACT page for details. Thank you.
Cemetery:
Columbia Hebrew Benevolent Society - Columbia
Directions to Kever: The Columbia Hebrew Benevolent Society in Columbia, South Carolina maintains full burial records and will provided a detailed location map upon request.
Name Listed on Cemetery Database: Abraham Isaac Trager
Biographical Notes: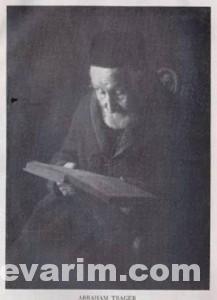 Photo Caption: Rabbi Avroham Yitzchok Trager, Credit: Jewish Historical Society of South Carolina
Bio Information:
A student in  Volozhin, the Rav was sent to the United States to raise money for theold Yishuv in Yerushalaim (Jerusalem).
« Previous: Rabbi Zalman Leib Alperin
Next: Rabbi Shmuel Yaakov Weinberg »