Rabbi Binyamin Fleischer

Chief Rabbi, Paterson, New Jersey
Date of Death: Fri. December 11, 1953 - Teves 11 5714

Anyone with biographical information is asked to please send it in.
See CONTACT page for details. Thank you.
Cemetery:
Beth David Cemetery - Long Island
Directions to Kever: Beth David Cemetery in Elmont, NY maintains computerized records and will provide a detailed location map upon request. Location: Needed
Biographical Notes: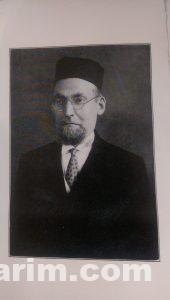 Photo Caption: Rabbi Binyamin Fleischer, Credit: Jesse Boiangiu
Bio Information:
The Rav also served as the Chief Rabbi of Bayonne, New Jersey.
« Previous: Rebbe Aryeh Leib Rokeach
Next: Rebbe Nachum Tzvi Fish »