Rabbi Beinush Zalkind Rabiner

ביניש זלקינד ב"ר דוב
Rav, Congregation Chaia Adam Anshe Minsk of the Lower East Side
Date of Death: Mon. October 13, 1913 - Tisrei 24 5674

Anyone with biographical information is asked to please send it in.
See CONTACT page for details. Thank you.
Cemetery:
Mount Carmel Cemetery Section 1 and Office - Glendale (Queens)
Directions to Kever: Mount Carmel Cemetery in Glendale, Queens maintains computerized records and will provide a detailed location map upon request. Location: Section: 1 (office side), Block: C, Map: 11, Society: RABBI JACOB JOSEPH, up the hill, towards the back.
Name Listed on Cemetery Database: Not listed
Biographical Notes: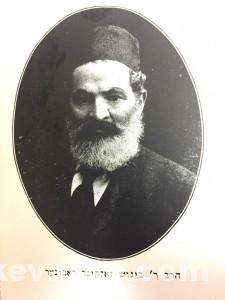 Photo Caption: Rabbi Beinush Zalkind Rabiner, Credit: Institute For Judaic Culture and History
Bio Information:
Rav Rabiner a founding member of the Agudath HaRabonim was a prominent member of Chief Rabbi Yaakov Yosef Joseph's Bais Din (Rabbinical Court).
« Previous: Rabbi Shabsi Rosenberg
Next: Rabbi Yitzchok Zev Wendrovsky »