Rabbi Chaim Shraga Brodsky

חיים שרגא ב"ר נח
Rav, Newark, New Jersey
Date of Death: Thu. February 25, 1937 - Adar 14 5697
Purim
Anyone with biographical information is asked to please send it in.
See CONTACT page for details. Thank you.
Cemetery:
Newark Jewish Cemetery - Grove Street Newark
Directions to Kever: Newark Jewish Cemetery along Grove Street in Newark, NJ. Although in a constant state of cleanup, the Newark Jewish Cemetery is in extreme disarray and can be dangerous, use caution when visiting!!! In addition to the actual cemetery, the surrounding areas have long past their prime, visiting as a group or waiting until Annual Newark Cemetery Visiting Day in September is strongly recommended. Should an Emergency arise call 911. Location: Bnei Abraham Cemetery, Cong. Ahavas Zion (Section 1) Address: 369 14th Avenue, See map picture below.
Biographical Notes: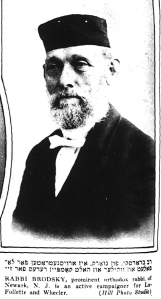 Photo Caption: Rabbi Chaim Brodsky, Credit: MCA
« Previous: Rabbi Nachum Zalman Zaiman
Next: Rabbi Yaakov Horowitz »