Rabbi Chaim Yosef Shaul Porille

חיים יוסף שאול ב"ר אלימלך
Rav, Congregation Shaarey Shomayim (Roumanishe Shul), Lower East Side
Date of Death: Tue. September 10, 1968 - Elul 17 5728
Date different from marker.
Anyone with biographical information is asked to please send it in.
See CONTACT page for details. Thank you.
Cemetery:
Mount Zion Cemetery - Queens
Directions to Kever: Mount Zion Cemetery in Queens maintains computerized records and will provide a detailed location map upon request. Location: Society: ROUMANIAN, Path: 28R, Gate: Road
Name Listed on Cemetery Database: PORILLE, CHAIM
Biographical Notes: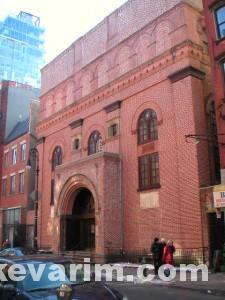 Photo Caption: First Roumanian-American synagogue building on Rivington Street prior to it being demolished in 2006, Credit: Wikimedia
Bio Information:
Rav Porille was been born in Uscieczko (then in Poland) in 1899, and moved to the United States in 1927, to serve as rabbi of the United Hebrew Congregations in Providence, Rhode Island. He became rabbi of Congregation Shaarey Shomayim in 1932, a post he held until 1962. He was a member of the executive board of the Agudath Harabonim.
« Previous: Rabbi Yehuda Chashesman
Next: Rabbi Mordecai Yosef Mayer »