Rabbi Dov Revel

דוב ב"ר נחום שרגא
Rosh Yeshiva, Rabbeinu Yitzchok Elchonon (RIETS)
Date of Death: Mon. December 2, 1940 - Kislev 2 5701

Anyone with biographical information is asked to please send it in.
See CONTACT page for details. Thank you.
Cemetery:
Mount Carmel Cemetery Section 1 and Office - Queens
Directions to Kever: Mount Carmel Cemetery in Ridgewood, Queens maintains computerized records and will provide a detailed location map upon request. Location: Congregation Kehilath Jeshurun, Section: 1, Block: C, Map: 1A, Lot: 16 Grave: 4, floor-stone
Name Listed on Cemetery Database: REVEL, BERNARD
Biographical Notes: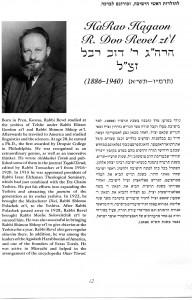 Photo Caption: Picture and short bio of Rav Dov Revel, Credit: Yeshiva University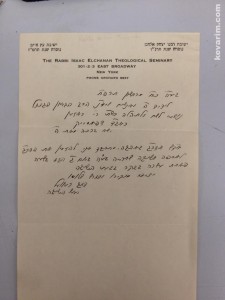 Photo Credit: Institute For Judaic Culture and History (IFJCAH)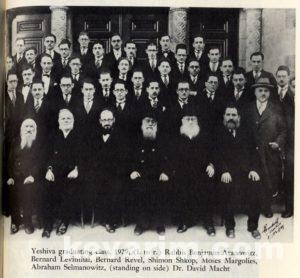 Credit: Yeshiva University

Bio Information:
A number of book have been published on the life and times of the Rav Dov Revel since his passing.