Rabbi Dovid Koolyk

דוד ב"ר אברהם
Rav, Congregation Anshei Russia, Newark, New Jersey
Date of Death: Sun. January 20, 1946 - Shevat 18 5706

Anyone with biographical information is asked to please send it in.
See CONTACT page for details. Thank you.
Cemetery:
Newark Jewish Cemetery - Grove Street Newark
Directions to Kever: Although in a constant state of cleanup, the Newark Jewish Cemetery is in extreme disarray and can be dangerous, use caution when visiting!!! In addition to the actual cemetery, the surrounding areas have long past their prime, visiting as a group or waiting until Annual Newark Cemetery Visiting Day in September is strongly recommended. Should an Emergency arise call 911. Location: Exact GPS location 260 S 20th Street, the ohel is by the road. Location: Russian 4 and 5 - Congregation Knesseth Israel
Name Listed on Cemetery Database: Name listed on marker: Rabbi David Koolyk
Biographical Notes: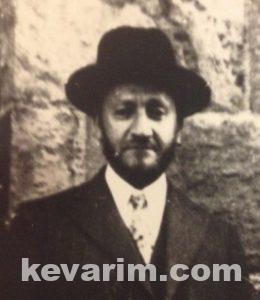 Photo Caption: Rabbi Dovid Koolyk, Credit: David R. 
« Previous: Rabbi Meir Mairim Magnes
Next: Rabbi Yehuda Hershkowitz »