Rabbi Eliyahu Mordechai Finkelstein

אליהו מרדכי ב"ר משה
Rav, Congregation Etz Chaim of Brooklyn
Date of Death: Mon. July 25, 1949 - Tammuz 28 5709

Anyone with biographical information is asked to please send it in.
See CONTACT page for details. Thank you.
Cemetery:
Union Field Cemetery - Queens
Directions to Kever: Union Field Cemetery in Ridgewood, Queens maintains computerized records and will provide a detailed location map upon request. Location: Section: Gate: 30, Row: 71, From Central Avenue, left on Hope Avenue (by foot as its a small path) at the steps go left along Path: X.
Name Listed on Cemetery Database: Name listed on marker: Rabbi Eliah Mordecai Finkelstein
Biographical Notes: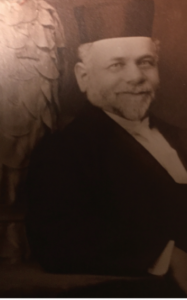 Photo Caption: Rabbi Eliyahu Mordechai Finkelstein, Credit: Needed 



Photo Caption: Announcement that Rabbi Finkelstein was installed at Mesivta Torah Vadath as Principal, Source: The Morning Journal, August 14, 1918