Rabbi Ephraim Michael Emanuel

אפרים מיכאל ב"ר ישראל
Rav, Brooklyn, New York
Date of Death: Sun. April 13, 1924 - Nissan 9 5684

Anyone with biographical information is asked to please send it in.
See CONTACT page for details. Thank you.
Cemetery:
Riverside Cemetery - Saddle Brook
Directions to Kever: Riverside Cemetery in Saddle Brook, NJ maintains computerized records and will provide a detailed location map upon request. Location: Either in section 109 (Progressive Deliatitcher) … or… section 92 (Mt Sinai of Jersey City), See location map below.
Biographical Notes: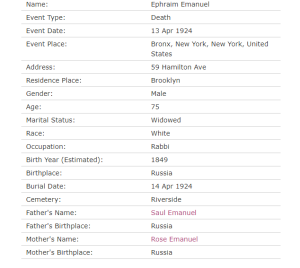 Source: New York City Municipal Deaths Records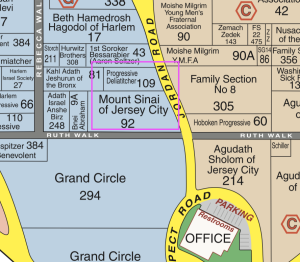 Photo Caption: Location map
« Previous: Rabbi Louis Ginzburg
Next: Rabbi Baruch Gedalya Heineman »