Rabbi Gershon Epstein

גרשון ב"ר שמחה בנום הלוי
Rav, Brooklyn, New York
Date of Death: Tue. June 20, 1922 - Tammuz 23 5682

Anyone with biographical information is asked to please send it in.
See CONTACT page for details. Thank you.
Cemetery:
Old Montefiore Cemetery - Queens
Directions to Kever: Old Montefiore Cemetery in Queens maintains computerized records and will provide a detailed location map upon request. Location: Gate: 301/E, Block: 9, Society Name: CONG. BETH HASIDIM SFATH EMETH, Row: 006R. Follow Montefiore Avenue, right on Lane P, see map picture below.
Name Listed on Cemetery Database: EPSTEIN, GERSHON
Biographical Notes: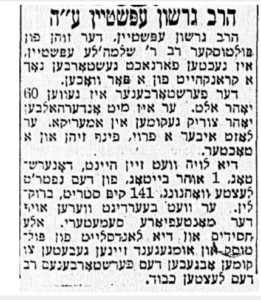 Photo Caption: The Morning Journal announcing Rav Epstein's passing.