Rabbi Yehuda Leib Levin

יהודה ליב ב"ר נחום פנחס
Rav, United Orthodox Hebrew Congregations of Detroit
Date of Death: Fri. March 26, 1926 - Nissan 11 5686

Anyone with biographical information is asked to please send it in.
See CONTACT page for details. Thank you.
Cemetery:
Clover Hill Park Cemetery - Detroit, MI
Directions to Kever: Clover Hill Park Cemetery in Birmingham, Michigan maintains computerized records and will provide a detailed location map upon request. Birmingham is a suburb of Detroit. Location: Section: 8, Lot: 38
Name Listed on Cemetery Database: Name listed on marker: Rabbi Judah Leib Levin
Biographical Notes: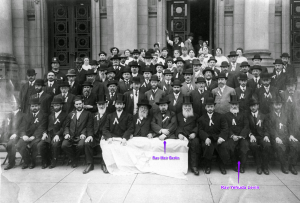 Photo Caption: National Meeting of Orthodox American Rabbis c.1920, Detroit, MI, Credit: Archives of Congregation Shaarey Zedek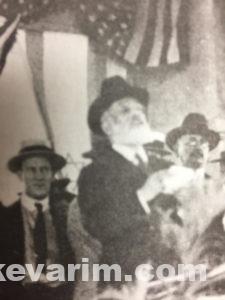 Photo Caption: Rav Yehuda Levin, 1913, Credit: Congregation Shaarey Zedek Archives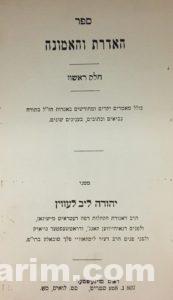 Credit: IFJCAH

Bio Information:
Rav Yehuda Leib Levin was born in Traby, Vilna Province, c.1862 and studied in Volozhin and Kovno and was ordained by Rav Naphtali Tzvi Yehudah Berlin [Netziv], Rav Yitzchok Elchanan Spector, Rav Yitzchok Meir of Slobodka, Rav Shloma Hacohen of Vilna, and Rav Yitzchok Blazer. He was appointed the rabbi of Liskiava, Suwalki Province, at the age of twenty-four and he immigrated to America five years later. He served as a rabbi in Rochester for one and a half years and then returned to Russia. He served as a rabbi in Krevo, but remained there only for half a year before coming back to America. After four years as a rabbi in New Haven's Congregation Bikur Cholim, in 1897 he was invited by three Orthodox synagogues of Detroit to serve as their rabbi. Rav Levin remained there for the rest of his life and he helped support the needs of the community during a period when it was experiencing tremendous growth. He founded the United Orthodox Hebrew Congregations to strengthen his synagogues and he established schools, asylums and kashruth organizations. He was among the founding members Mizrahi and the Agudath Harabbonim. Rav Levin was an inventor by vocation and he secured patents for a calculating machine, a model of which was placed on permanent exhibit at the Smithsonian Institute. He died in 1926, leaving many unpublished manuscripts which are now housed at the University of Michigan library.
« Previous: Rabbi Chaim Appleman
Next: Rabbi Dov Ber Appleman »