Rabbi Mordechai Klatchko

מרדכי ב"ר צבי הירש
Rav, Altoona, Pennsylvania
Date of Death: Thu. December 22, 1932 - Kislev 23 5693

Anyone with biographical information is asked to please send it in.
See CONTACT page for details. Thank you.
Cemetery:
Woburn Jewish Cemeteries - Woburn, MA
Directions to Kever: Woburn Jewish Cemeteries in Woburn, MA maintains computerized records and will provided a detailed location map upon request. Section: Agudath Achim. Please note that the Agudath Achim section is privately owned and operated (NOT run by JCAM).
Name Listed on Cemetery Database: Name listed on marker: Rabbi Klatchko
Biographical Notes: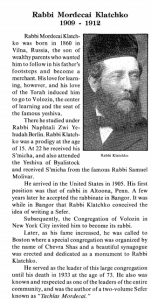 Photo Caption: Short bio for Rabbi Mordechai Klatchko, Credit: Needed
« Previous: Rabbi Avroham Abba Lifschitz
Next: Rabbi Shmuel Yitzchok Liebb »