Rabbi Mordechai Tzvi Schwartz

מרדכי צבי ב"ר רפאל
Clevelander Rav
Date of Death: Mon. September 10, 1962 - Elul 11 5722

Anyone with biographical information is asked to please send it in.
See CONTACT page for details. Thank you.
Cemetery:
Mount Olive Cemetery - Cleveland
Directions to Kever: Mount Olive Cemetery in Solon, Ohio maintains computerized records and will provide a detailed location map upon request. Solon is a suburb of Cleveland Location: Alongside the ohel of Rabbi Eliyahu Meir Bloch.
Biographical Notes: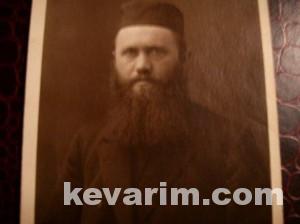 Photo Caption: Rabbi Mordechai Tzvi Schwartz, Credit: Larry Schwartz, Skokie, IL
« Previous: Rabbi Baruch Eisenstadt
Next: Rebbe Yechiel Aschkenasy »