Rabbi Moshe Schustak

משה ב"ר יהודה
Rav, Philadelphia, Pennsylvania
Date of Death: Sat. July 11, 1936 - Tammuz 21 5696

Anyone with biographical information is asked to please send it in.
See CONTACT page for details. Thank you.
Cemetery:
Mount Sharon Cemetery Co - Springfield, PA
Directions to Kever: Mount Sharon Cemetery is located in Springfield, Pennsylvania. Springfield a suburb of Philadelphia is located about 10 miles west of the city. Location: See the picture below.
Biographical Notes: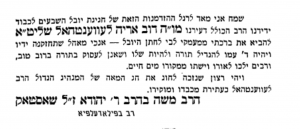 Source: Moreshes Chachmei America (MCA)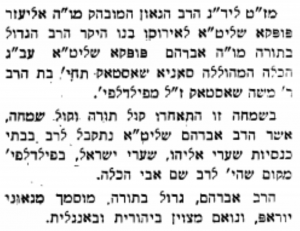 Source: Hapardes
« Previous: Rabbi Yitzchok Siegel
Next: Rabbi Aaron Dovid Zeldner »